In this blog: By donating BMW i3 to eCars.bg you become part of an amazing new EV campaign in Bulgaria.

Since 2010 with unfading inspiration we are efficiently investing in making e-mobility popular in Bulgaria. We created three different EV websites, invested our time and money into developing them and growing them into the largest online EV group in Bulgaria. Now already investing in, and creating a fourth website – a National EV charging locator.We are bringing electric mobility to people in Bulgaria now and growing...
On behalf of eCars.bg team – I thank BMW for the brave step called i3 and I thank you for supporting our team in this amazing e-mobility quest we are on!
We have chosen to receive your support to donate white BMW i3 to eCars.bg team, because we deserve to have it in Bulgaria now as any other nation. This is the way to help more people realize right now how esciting and efficient is to have an electric car, by demonstrating this brave new BMW i3 to attract more people in Bulgaria to order and purchase BMW i3 (and other EVs).
We constantly demonstrate that Bulgaria is a good market and BMW should start selling BMW i3 in Bulgaria now (as of summer 2014 the model is not available in our country yet). That's true for Nissan, Mercedes-Benz, Tesla, etc.
But why wasting time? We've being in this amazing journey for almost five years now and it just begins!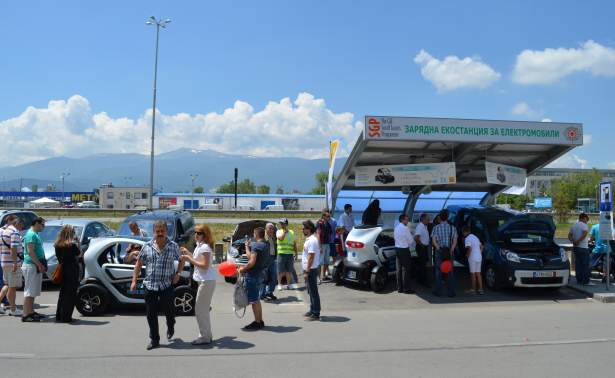 By donating a white BMW i3 to eCars.bg you are supporting the e-mobility in Bulgaria now – and we let people in Bulgaria experience the fresh i3 in this very moment.
To get in touch and have a better feeling of our activity and how exactly we envision demonstrating the white BMW i3 you are donating, please call or email us. We are happy to talk to you and share the passion for electric mobility!
To donate white BMW i3 to eCars.bg please call:
Martin Hadzhistoykov at +359 888 919329 or kindly send email to This email address is being protected from spambots. You need JavaScript enabled to view it..
You support electric mobility development in Bulgaria so effectively!
www.eCars.bg – EV Blog and Forum
www.Elektromobili.bg – National EV Info platform
www.KaramEL.bg – Online EV market
www.VsishkoTok.bg – Online EV charging locator (coming soon)
Sincerely – THANK YOU!