In this blog: The electric Benz goes on sale this summer in the US, with Germany to follow in the autumn.

Kind of weird launching it in US first, but the decision's made. They must have had a reason and it may be connected to the "American veins" of the car – B-Class ED electric drive system was developed by Tesla Motors...
We first saw B-Class ED at eCarTec Munich in October 2013. Had no chance to test drive it as there was only one inside, so we could only look and touch. OK, we also asked questions and were told it will go on sale in the whole EU once the European sales start, unlike BMW. Now it seems like it will follow the same path – key markets first ;).
It's hardly different than every other B-Class on the road. There's some "EV tells", however, like missing tailpipe and different dashboard gauge readings. We're sure there will be more for sure.
B-Class ED naturally is in direct competition to BMW i3 and Volkswagen e-Golf, but all three are ages behind Nissan LEAF, which global sales surpassed 100,000 (mid January 2014). BMW i3 sales enjoyed a great start, and we'll see how it goes for the others.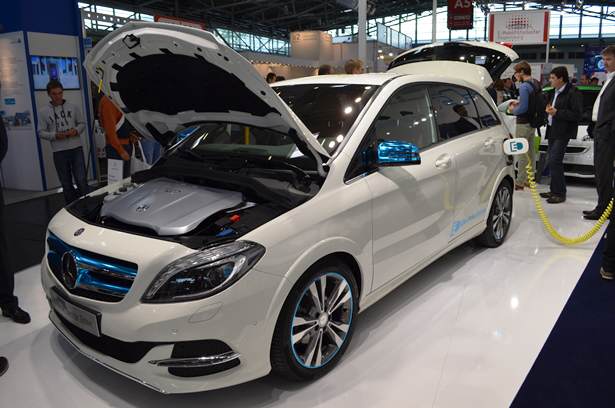 The electric B-Class accellerates from 0-100 km/h in 7.9 sec, which makes it half a second slower than BMW i3. B-Class, however, has a bigger battery – 28 kWh – that should be good for 160-170 on a charge we guess. Actually, at New York Autoshow Tom Moloughney just discovered that's the usable capacity, which means total could be 32-33 kWh. Being a Tesla piece we thought it could have even more, but bigger batteries are more expensive.
The weight is also and important factor. B-Class consumes roughly 18 kWh per 100 km, while i3 needs only 14 kWh (see it tested in this blog) – that's where carbon fibres, which BMW i3 is largely made of, come into play. Hopefully by the end of the year we'll see some direct German EV comparative tests.
With the production ongoing the last unknown about the B-Class ED is how much it will cost. For now it's good to know that finally another German EV is in the makes and the only German brand, that falls behind, is Audi. We hope, however, А3 e-tron will come sooner than later, as the fight for the EV throne already begun ;).