In this blog: Our first electric mobility project starts in the town of Isperih.

Back in 2011 we at eCars.bg and Elektromobili.bg established a new NGO together with A1 Eco of Isperih and Business Center Isperih. We named it Electric Vehicles for the Regions – Isperih and now got the opportunity to realize our first project – "Electric Mobility for Isperih". Project's main activity is a workshop for 18 students interested in electric mobility, and the goal is to inform them about the news transportation technologies, how electric vehicles help save the environment, cultural heritage and people's health in the community...
BUT, they were more! Apparently the first workshop just doubled up – 37 students showed up instead of 18 so it looks like an interesting topic!
And there's more support – Isperih Municipality decided to give us a hand by temporarily funding the project by 13,000 BGN (around €6,500), which should be voted for at the December hearing session. We've started the project execution in end October and should finish it by May 2015.
Once in the workshop, students will take part in demonstrations of how electric vehicles and charging stations work, and will also put together mini EV models. Another part of the project is a dedicated practice at the historical-archeological park "Sborianovo".
There's also a 7-minute video that we are about to film as part of the project which Isperih Municipality will use to promote the town as one of the first in the counrty committed to develop e-mobility to improve quality of life and preserve the environment in the region.
But that's just a part of the Isperih's EV movement. In addition, A1 Eco is in a process of buiding and EV center, which is almost ready and we'll devote a special blog to it once launched.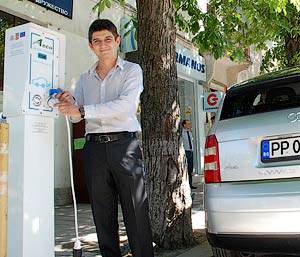 Now it's also a proper time to remind that back in 2011 A1 Eco built the first municipal EV charging station in Bulgaria which they donated to town's authority.
Special thanks to Isperih Municipality for the financial support for the project and plsease keep an eye in this blog as we'll report about the first workshop next week.
eCars.bg / Elektromobili.bg