In this blog: Model S owners in Germany proved it can go 360 km on a charge driving at average speed of 110 km/h.

Men are very sensitive about cars. Especially about their own cars. Add a "threat" to Tesla Model S to this and you might see e-motions going farther than you think ;). And who says germans are not e-motional?
It seems a lot of people think of Germans like orderly people, devoid of feelings, living a pedantic life of rationality. But I can tell that EVs paint a different "DE" picture here. They change a lot of things. As does an article in the German auto press.
Recently, Auto Motor und Sport published a report from an EV range test it did, saying that driven at 120 km/h Tesla ModeS is only capable of meager 185 km on a charge. That was too much for some German Model S owners, who decided to prove the AMS team got it wrong.
So people like Lars Thorsten and the Roland Stoke went on to propose a "real test" to the tff-forum.de community. Lars even offered AMS a prop bet – if he fails to fare better than AMS team in a similar test, they can have his Model S worth €120,000 (we are not sure of the full bet details though). AMS seems to initially accepted the bet, but later backed off.
We found this story in a tff-forum.de thread, which was set to organise a special driving experience to prove Model S' range is much longer than 184 as AMS says, at 120 km/h. It later evolved into a 41 EV rear world range demonstration, that surprised the movers.
The organisers decided to split the test in two "classes": driving at 120 km/h and 90 km/h respectively – average speed. It's difficult to mainting specific average speed on public roads so the results and not 100% matching, but are pretty close to the purpose and totally different then those of AMS, as you'll see in a bit.
Mad at AMS more than 70 EV owners and fans proved very successfully, that paper's verdict of "EVs are too expensive and not suitable for daily usage", is absolutely unsustainable. From smart ED to Tesla Model S, everyone managed to drive (much) more than AMS team, who carved the following headline: "Even over €90,000 costing Tesla Model S is capable of meager 184 km on a charge".
Somehing must have gone wrong in AMS' test indeed. Someone at the TFF forum even suggested they probably drove at 210 km/h and not 120 km/h, and maybe just made a typo. But let's get to the test results, with the highlight being the 364 km Model S ride at 108 km/h average speed.
OK, it's 12 km/h less in average speed, but it's close and the range is almost double the one AMS reports. The longest trip of the day, on the other hand, was made by another Model S owner who managed to do 558.8 км with 10 km remaining range for little less than six hours. That translates to slightly over 70 km/h averade speed, as noted below. Which means at real 90 km/h average speed Model S would most likely do around 450 km.
"All this clearly shows there is something wrong with their test," comments master baker Roland Stoke, who owns a Model S. And once he saw the AMS report he told himself "We must show them that it's wrong".
Two weeks ago when they announced the event at TFF forum Stoke thought only couple of EV owners will join the demonstration. But he was wrong – the EV society responded enthusiastically which resulted in 41 EVs joining the party.
You already know how Tesla Model S fared in this user test, but there's a solid difference in other EVs' performace as well. The picture below is an improvised demo of the test results, but we don't need more. RWams shows the AMS team range @120 km/h, the middle column is for owner's range and the right one is for the manufacturer data.
For the majority of peope the most interesting bit of information out of this test is probably that driven at 80-90 km/h EVs like Nissan LEAF, BMW i3, VW e-Golf and Renault ZOE can do between 145 and 175 km on a charge. That's an average range of 160 km and should you have a fast charging station enroute (and your EV supports fast charging) 300 km trips are perfectly possible with little compromises.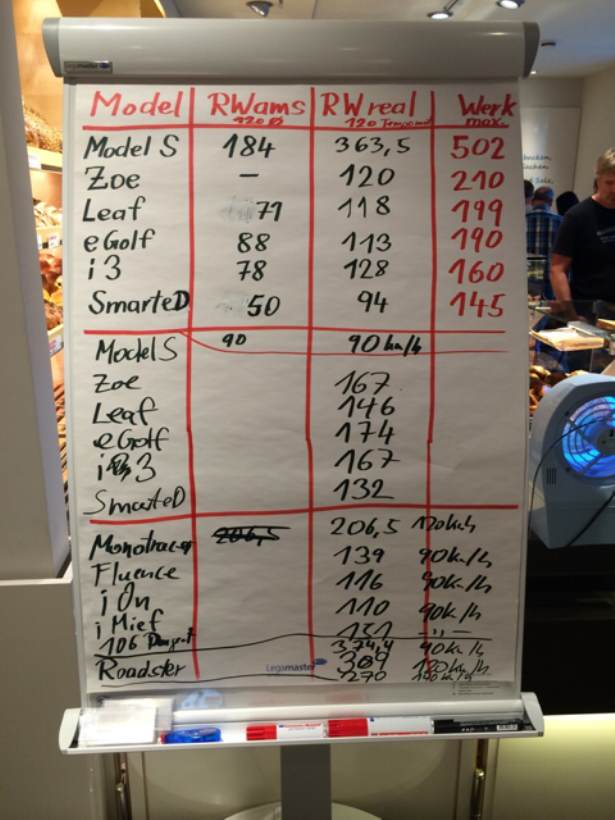 Now take a look at the longest trips – four Model S drivers made it past the 500 km mark in this epic test on August 23, 2014:
Michael Manger, 558,8 km, rated range: 10 km, average speed 71 km/h;
Nils Junger, 530,9 km, rated range 0 km, average speed 73,2 km/h;
Eberhard Meyer, 514,9 km, rated range 0 km, average speed 82,2 km/h;
Klaus Kuttig, 501 км, rated range 23 km, average speed 75 km/h.
It's fair to add that if you drive Model S at top speeds, energy consumption is pretty high. According to a TFF forum user – at 210 km/h it's 45 kWh! That's the speed that makes the AMS experience possible. In their defence, the German autobahns allow for such speeds so it makes sense for someone to put the Model S to the limits.
But thank God far not everyone finds such a driving style being pleasant or efficient and the well organized TFF event (as per multiple forum posts) shows exactly how modern EVs perform in real world conditions. It's a valuable information and with several top German TV channels reporting the event, it reached a lot of people in Germany.
As for Auto Motor und Sport – you know they say there's no such thing as bad publicity. But we can see a new trend emerging here in the "how can I get famous" quest – looks like you just have to say something false about Tesla Model S ;).
You see, there's no bad publicity – it's us writing about Auto Motor und Sport – not AMS about us :)!
Via: RP online; TTF forum